RDV Model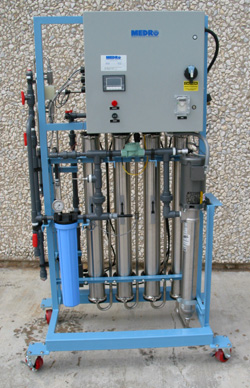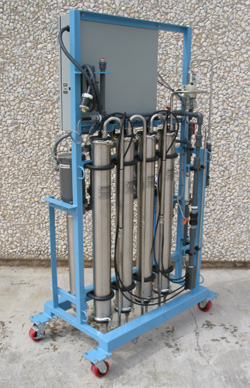 The RDV Vertical is our newest dialysis RO model, 5.6 GPM, utilizing four membranes in a vertical design and mounted on casters, making it ideal for a dialysis or clinical facility with space limitations.
This system can include loop circulation pump for direct feed to allow the usage of up to 100% of the permeate produced by the RO. Any permeate produced but not used will be recycled into the feed of the RO. This system assures the minimum fluid velocity in the return of the dialysis loop.
RDV Model – (One to Four Vessels (1.3 GPM to 5.6 GPM)
Designed with space savings as a priority.
Space saving design for customer-specific footprint of 45" W X 17" Deep
Vertically-placed vessels
PLC Controls with rugged electronic sensors for immediate information on a touch screen
Variable Frequency Drive (VFD) adjusts the speed of the pump keeping flow of the feed water constant
Stainless Steel Vessels
SS Pressure Transducers
SS Concentrate and Recycle Valve
Feed and Permeate Conductivity Monitors
Product Water Divert Valve
Powder Coated Frame
Casters
Option: Remote Nurse Alarm