Medical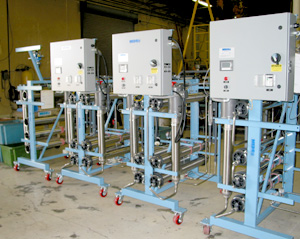 Medro Systems began as a supplier of high purity water treatment systems for medical applications.  Our name reflects our work in this area, MED for medical and RO for reverse osmosis.  Medro has served the kidney dialysis and other medical specialties for 40 years, focusing on quality, efficiency, reliability and ease of operation, meeting the daily standard of quality patient care and service for dialysis technicians and other healthcare professionals.
Medro Systems Medical RO's are a Class II Medical Device and are cleared to be marketed under the FDA 510(k) pre-market notification program.
Medro was one of the first companies to use the newly commercialized reverse osmosis membranes in 1975 and we continue to update and improve our medical RO systems to better serve the dialysis market.
RD Series
The RD Series is our current design of medical RO's. This Series is available in "H" (Horizontal) and "V" (Vertical).