Custom Design RO Systems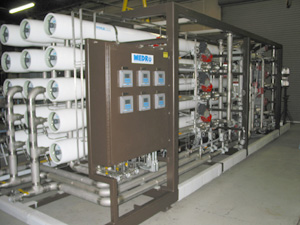 With each project, Medro focuses on implementing our guiding message – designing systems, not just building machines.  We work closely with our customers to determine the system design that best suits their needs now and in the future.
The following are examples of custom projects we have worked on recently:
Designed a DI recovery and reuse system to maintain high quality water for nondestructive testing of aircraft parts.
Designed two RO trains to be operated in parallel for a one-pass operation or operated in series for a two-pass operation. The project required special design to maintain the two-pass quality during the summertime water temperatures. This involved special RO membranes and unique attention to flow rates of the two RO trains involved.
Designed a Reverse Osmosis AirClean system to facilitate the removal of suspended solids that had collected on the surface of cellulose acetate membranes.
Two-Pass RO. When ultrapure water (18 megohm/centimeter) is needed, the final step could be a combination of Two-Pass RO, ElectroDeionization (EDI) and Mixed Bed Deionization. However, the improvements in reverse osmosis membranes have made it possible to use a two-pass RO that can easily exceed 99% removal of the ionic material from the water. A combination of the two systems results in a very efficient system to make ultrapure water with regenerations being few and far between and a minimal amount of acid and caustic used to regenerate the DI resin.
A recently completed RO system consists of three (3) 100 GPM trains on a single skid to operate in parallel with an equal skid we produced ten years earlier, resulting in a total install capacity of 600 GPM.